Biology Honors Students Well-Represented at the 2018 OURI Research Day
On Friday, March 30th, Florida Atlantic University showcased its 8th Annual Undergraduate Research Symposium hosted by the Office of Undergraduate Research and Inquiry (OURI). Over 200 faculty, staff and students from FAU and FAU High school learned from students engaged in research, scholarship and creative activities across all academic disciplines. The full program can be viewed below.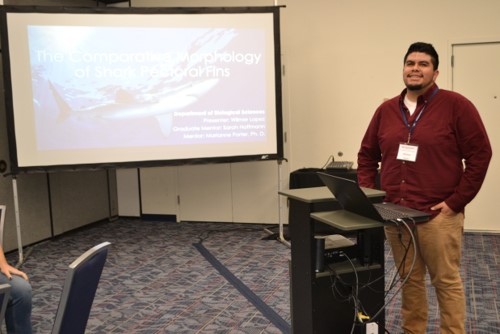 This year, Biology Honors students participated in the event and presented their research projects. The Biology Honors Program is run by Dr. Evelyn Frazier and recognizes research accomplishments of talented undergraduates. The day long event also hosted many oral presentations. Wilmer Lopez, who works in the laboratory of Dr. Marianne Porter, Assistant Professor in the Biological Sciences Department, gave a talk entitled "A Comparative Analysis of Shark Pectoral Fins" and won first place in the Environmental, Ecological & Marine Sciences Oral Communication category. Janet Weinthal gave a talk entitled " Block vs. Text Coding Games: Comparing 4th Grade Students' Confidence, Interest, and Skill in Computer Science," her mentor is Dr. Tricia Meredith, alumna of the Integrative Biology Program. In addition to the oral presentations, 30 undergraduates that work in the laboratories of faculty members of the Integrative Biology PhD Program. Below is a list of Biology winners in the poster competition. To view a full list of the oral and poster presentation winners, click here. 
OURI Poster Winners from the Honors Thesis Program
Category: 
Environmental, Ecological & Marine Sciences 
Second Place: Zachary Blakeney
Mentor: Dr. Evelyn Frazier
"An Evaluation of Productivity for Florida Burrowing Owls in a South Florida Population" 
Category: Health & Medical Sciences
First Place: Alexandra Urdaneta 
Mentor: Dr. Vijaya Iragavarapu-Charyulu
"Quantification and Analysis of Cancer-Cell Derived Exosomes" 

OURI Poster Winners from Biology Students not in the Honors Program
Category: Environmental, Ecological & Marine Sciences 
First Place Tie: Mallory Theurer 
Mentor: Dr. Evelyn Frazier
"Microsatellite Loci Analysis of Gopher Tortoise (Gopherus polyphemus) Populations in Southeast Florida"
First Place Tie: Andrea Hernandez
Mentor: Dr. Marianne Porter
"Fin Morphology in Two Benthic Elasmobranch Species"