FAU Integrative Biology PhD Program Offers New Concentrations
Integrative biology refers to interdisciplinary, multilevel approaches to education and research in the biological sciences. The Integrative Biology program focuses on the relationship between cell/molecular functions and experimental biology in the broad sense, with a view to connectivity between levels of biological organization and biological processes. The curriculum is individually tailored to each student's research interests and built around a set of core courses that emphasize 1) the theme of integrative biology, 2) scientific communication, 3) statistics, 4) elective courses chosen by the student and an advisory committee, 5) seminar courses and 6) dissertation research.
The Department of Biological Sciences, the Charles E. Schmidt College of Medicine, the Center for Molecular Biology and Biotechnology, and Harbor Branch Oceanographic Institute participate in this doctoral program. FAU's Partner Institutions, the Max Planck Florida Institute for Neuroscience and The Scripps Research Institute of Florida, al so contribute expertise to this program.
FAU's Integrative Biology PhD program is offering two new concentrations. Applicants seeking a doctorate in Integrative Biology may choose to pursue the Integrative Biology core program or to pursue one of the program's four concentrations. These concentrations fall under the umbrella of the Integrative Biology major and all students accepted to the concentrations are subject to all Integrative Biology policies and regulations as well as additional regulations that are specific to each concentration. 
Neuroscience Concentration (IB-NS)
Completion of the Neuroscience concentration provides students with both knowledge and practical experience in the neuroscience field at an advanced level. In the evolving and growing field of neuroscience, students who complete the IB-NS concentration will have the appropriate training to succeed both within and outside of academia. The Neuroscience curriculum focuses strongly on knowledge-based and experimental-based neuroscience courses and includes training in scientific methodologies. IB-NS faculty are active experts in their respective neuroscience fields and will support development of the students who can focus on a number of research areas, including neuronal circuitry, learning and memory, neurodegeneration, drug discover, stress neurobiology, neurogenetics and/or neurodevelopment. 
Environmental Science Concentration
(IB-ES)
Completion of the Environmental Science concentration provides students with advanced research and technical training that prepares them to find solutions to some of the world's most difficult environmental problems. Habitat degradation, invasive species, contaminants and climate change challenge land and water managers in South Florida and indeed the world. IB-ES faculty have considerable experience conducting research to address these difficult conservation problems, particularly in South Florida's extensive freshwater and marine ecosystems. The IB-ES curriculum emphasizes experiential learning through dissertation research, combined with innovative courses in the fields of ecology, conservation biology, environmental chemistry, geographic information systems, statistics and modeling.
Biomedical Science Concentration (IB-BS)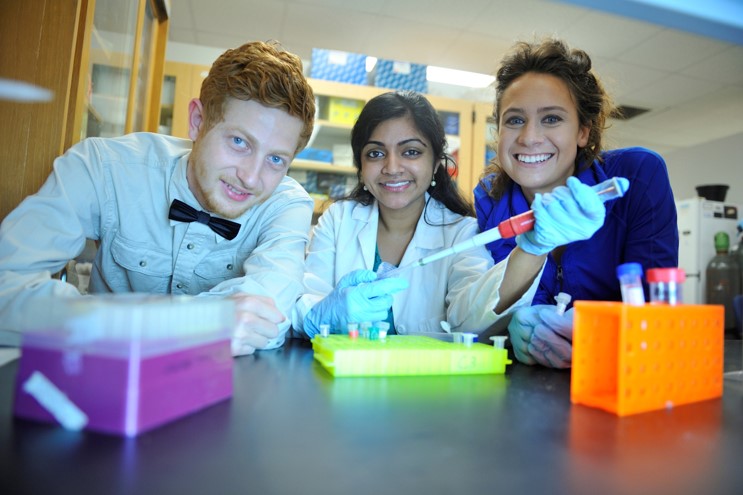 Completion of the IB-BS concentration provides students with advanced knowledge and research experience in the biomedical science filed. The IB-BS curriculum focuses strongly on both knowledge-based and experimental-based biomedical science courses and teaches the student appropriate scientific methodology. Students who complete the IB-BS concentration develop the skills and expertise they need to succeed both within and outside academia. IB-BS faculty are active experts in their respective biomedical science fields and support development of the students' research in the areas of Human Genetics and Genomics; Cancer Biology and Prevention; Microbiology, Immunology and Infectious Disease; HIV/AIDS Mechanisms and Treatments; Respiratory Physiology and Biophysics; Age-Related  Eye Diseases including Cataract and Age-Related Macular Degeneration; Breast Cancer Mechanisms and Therapy; Cardiometobolic Risk in Psychiatry; Huntington's Disease Mechanisms; Alzheimer's Disease Mechanisms and Therapy; Vaccine Development; Osteoarthritis Prevention and Treatment; Prostate Cancer Mechanisms; Reducing Premature Death and Disability from Heart Attacks and Stroke; Restrictive Cardiomyopathy Mechanisms; Childhood Malaria Mechanisms and Therapy Development in Children and others.
Marine Science and Oceanography Concentration (IB-MO)
The IB-MO concentration provides students with a board understanding of oceanographic science along with the research and inquiry skills necessary to conduct research independently within their area of specialization. The IB-MO curriculum provides both knowledge-based and laboratory- and field-based courses that promote the cross-disciplinary training students need to face the complex challenges of 21st century science. IB-MO faculty have expertise in diverse ocean  ecosystems, including developed and undeveloped coastlines, large estuaries and both deep sea and coastal waters, and support development of the students' research in areas of water quality, hydrology, coastal ecology, biogeochemical cycling, endangered and invasive species, ocean megafauna fisheries and aquaculture, harmful algal blooms, urbanization and underwater optical imaging and ocean monitoring systems.