IBNS Alum and Fellow Lab Mates Publish Two Papers Simultaneously
Dr. Wesley Bollinger, recent Integrative Biology-Neuroscience (IBNS) program graduate, published two papers this month. The paper entitled " BK channels and a cGMP-dependent protein kinase (PKG) function through independent mechanisms to regulate the tolerance of synaptic transmission to acute oxidative stress at the Drosophila larval neuromuscular junction " was published in the Journal of Neurogenetics and the next paper entitled " Resveratrol-Inspired Bridged Bicyclic Compounds: A New Compound Class for the Protection of Synaptic Function from Acute Oxidative Stress " was featured in ACS Chemical Neuroscience. Dr. Bollinger worked in the laboratory of Dr. Ken Dawson-Scully, Associate Professor of Biology and Associate Vice President for Strategic Initiatives and Head of Institutional Partnerships for FAU and the Max Planck Florida Institute for Neuroscience. His dissertation research investigated the role of large conductance potassium channels and resveratrol-like compounds in protecting synaptic function from acute oxidative stress. These papers were also co-authored by Nadia Sial, a post-bac student who was recently featured in the Owl Research & Innovation online magazine. Sial became one of the nation's youngest medical students when she was accepted into the Charles E. Schmidt College of Medicine last year as part of the inaugural class of the FAU High School M.D. Direct pipeline program.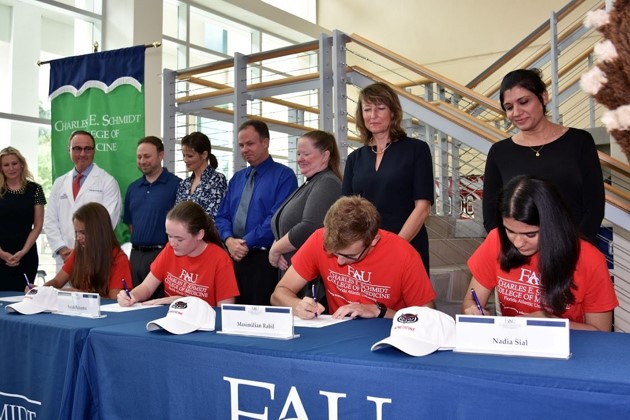 Sial is studying the effects of oxidative stress associated with neurodegenerative disorders like Alzheimer's disease and Parkinson's disease in the Dawson-Scully lab. "I look at the mechanisms of neuronal communication using fruit fly larva. I dissect the larva to expose the neuromuscular junction, the area where the motor neurons connect and basically talk to each other," she says. "Ultimately, the goal is to determine the mechanism by which the brain may reduce the effects of oxidative stress." Sial's studies may one day lead to medications that can reduce the effects of stroke and contribute to healthier aging.