Life in Boca Raton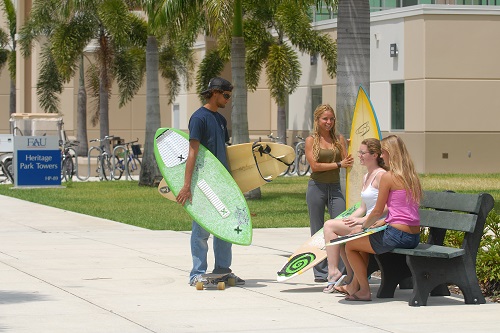 Florida Atlantic University was founded in 1964 in Boca Raton on an 850-acre site located near the Atlantic Ocean. The campus is conveniently located half way between Palm Beach and Fort Lauderdale and offers a broad range of academic programs, activities, and services.
The Boca Raton Campus provides an exciting and supportive learning environment for students. The Student Union hosts student activities and meetings. In addition, its 2,400-seat Carole and Barry Kaye Performing Arts Auditorium enables students to enjoy performances ranging from rock groups to the Florida Philharmonic Orchestra. The campus supports two cafeterias and has an attractive array of accommodations for its residential students. The Boca Raton Campus is also the home of FAU's Division I Intercollegiate Athletics program and facilities. Its recreation complex includes an aquatic center, gymnasium, tennis courts, wellness center, track, and a variety of fields for club and intramural sports competition.
The five-story S.E. Wimberly Library houses a large collection of monographs, serials, and other academic resources. Computer labs, study lounges, a media center, and tutoring services also provide valuable academic support for students. The Boca Raton Campus hosts art exhibits, theatre productions, and concerts in its two galleries and theatre. Visiting performers and speakers add to the artistic and intellectual vibrancy of the campus.
For information about transportation options for commuter students, including carpooling, Trirail, and FAU Zip Car services, please visit the campus transportation website.
In addition, the City of Boca Raton Recreation Services website offers information about the area's many recreation opportunities, including local beaches, parks, museums, community centers, theaters, and nature centers, such as Gumbo Limbo.  In addition to intercollegiate and intramural sports at FAU, Boca Raton also offers a wide variety of opportunities for fitness and sports enthusiasts.
There are also plenty of professional sports in the area to watch, including Major League Baseball's Miami Marlins, the NBA Champion Miami Heat, the NFL's Miami Dolphins and auto racing at both Palm Beach International Raceway and Homestead Miami Speedway.