Health and Safety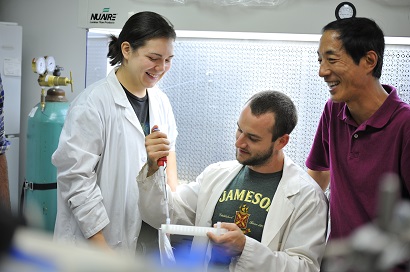 All FAU faculty, staff and students working in life science laboratories must complete safety training through Environmental Health and Safety (EH&S) prior to entering the research laboratory or laboratory classroom. Four trainings are required for all laboratory/laboratory classroom workers:
The first three of these trainings must be renewed annually. All initial trainings must be completed in person (see the EH&S Training Calendar) but annual refreshers may be completed online through Blackboard. Additional trainings should be completed as required (e.g. Diving Safety, Radiation Safety). Requirements will differ depending upon the type of research being conducted in a given laboratory.
Note: EHS training is site specific. FAU students performing research at affiliate institutions are responsible for obtaining appropriate Environmental Health and Safety training at those institutions. If a student is performing research at an affiliate institute and simultaneously working as a teaching assistant on an FAU campus, they must complete appropriate EHS training with each entity.
Additional available Safety Trainings Relevant to Biology Student Teaching and Research include:
This list is not inclusive. For the full list of trainings offered by EH&S at FAU along with detailed descriptions, please visit EH&S Safety Training .