What Can You Do with a Biology Degree?
---
Bachelor degrees in biology provide versatility for students pursuing interdisciplinary areas such as environmental science, neuroscience, biomedical science, and marine science and oceanography. Florida Atlantic University offers multiple degree programs in biology that prepare students planning to be expert biologists in academia, industry or governmental service, careers medicine, dentistry or veterinary medicine, or pursuing advanced degree studies. Learn more about FAU biology undergraduate degree programs and graduate degree programs. The following are highlights from recent FAU biology graduates to show the variety of opportunities available and help provide answers to the question 'What Can You Do with a Biology Degree?'
Environmental Scientist
My name is Kelsey White and I earned my MS in Environmental Science from FAU in May 2017. After graduating, I moved to Tennessee where I joined a Conservation Corps Trail Crew, which then led me to an internship with the National Park Service. I worked with the park's Ecologist recording vegetative communities throughout the Great Smoky National Park. I am now working in Tonopah, Nevada as a GS-9 Environmental Specialist with the Bureau of Land Management. I conduct environmental monitoring during and after mineral exploration projects. One of my most significant roles is going to sites after a mining project has been completed to monitor reclamation progress. The mining operator is responsible for cleaning up the site by removing debris and restoring the environmental conditions. The position is great for me since I am constantly in the field hiking in some of Nevada's prettiest areas. Through all of the field work and projects available to FAU students, I was able to gain experience in environmental monitoring starting in 2013. By working on different projects I was able to gain an understanding of the processes involved in collecting and analyzing environmental data. Field work was by far my favorite part of being an FAU student and I really enjoyed working with different professors on their individual projects. During graduate school, my research focused on the dynamic physical characteristics of coastal systems and how they affected sea turtle behavior. I worked on coastal projects with Dr. Dianne Owen, Dr. Sarah Milton, and Dr. Tiffany Briggs. During my final year at FAU, I was able to lead a team of undergraduates to help out with the data collection! I have many tips for current students but the biggest one by far is to not put yourself in a box. Do not think that since all of your experience may be in marine biology that all you can be is a marine biologist. Many jobs need your skills, not your particular research and you need to know how to market yourself to be suitable for an array of possibilities. For example, I didn't know anything about mining but I did know about data collection, environmental monitoring, and how to use computer systems, like GIS. Essentially my research at FAU mapping sea turtle nests and disturbance areas helped me acquire the skill set needed to become an environmental scientist!
Graduate Student- Biomedical Research

My name is Aaron McFarlane, and I earned my B.S. in Biological Sciences at FAU in the Spring 2019 semester (with Magna Cum Laude honors). Something I am particularly passionate about is my research: In my lab, I am currently trying to test the transport of drugs across the blood-brain barrier, with implications for developing therapeutic agents for multiple sclerosis, a chronic disease of the brain and spinal cord. Between being able to help students succeed in their academic career, and potentially being able to discover breakthroughs for various diseases in my lab, my graduate career at FAU looks very promising! I also serve as a graduate teaching assistant for Dr. Saunders' Life Science course at FAU's Boca Raton campus. As an Integrative Biology PhD student, my core responsibilities include conducting research, taking advanced coursework, aiding Dr. Saunders with lecture support and helping undergraduate students understand course material. My undergraduate experience at FAU prepared me for my current role as a graduate student by increasing my knowledge of biological/chemical concepts, teaching me how to think critically, how to properly manage my time, and how to make connections with faculty and peers (among other things). As a graduate of both FAU High School and FAU, I enjoyed the vibrant and diverse student atmosphere on both the Boca and Jupiter campuses. I also enjoyed collaborating with friends and peers to study and hangout, and the incredible opportunity to take part in a year-long undergraduate internship at the Max Planck Florida Institute. Much of my research as an undergraduate took place in Dr. Gregg Fields' laboratory on the FAU Jupiter campus, where I've been working on drug development and a better understanding of multiple sclerosis. My mentor taught me essential techniques within the lab, how to write grants, and how to effectively present oral and poster presentations in public. For current students trying to pursue a career in biomedical research, here's what I would recommend: make friends with your peers, and get help from supplemental instruction (SI), tutoring, and faculty for difficult courses- they are here to help you! Also, purposefully interact with and make connections with your professors! They actually care about your success and want to help you! Finally, set yourself apart from the pack and look for internships, workshops, undergraduate research experiences and study-abroad programs. In today's competitive academic environment, getting good grades is not enough! Go Owls!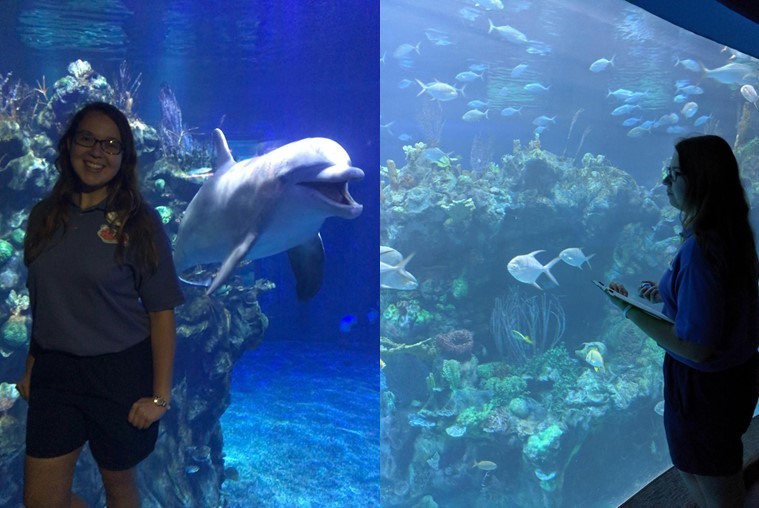 My name is Kaitlin Grell and I earned a B.S. in Biological Sciences and an Environmental Science certificate from FAU in May of 2019. About a month after I graduated from FAU, I started work with the Walt Disney World Company as an Aquatic Research Intern at the Seas with Nemo & Friends! I have worked on several ongoing projects while part of the Seas Science Team, including daily animal observations, coral growth analysis, and nanobubble treatment analysis. However, my absolute favorite part of this position is doing research with Disney's dolphins! Our team conducts a lot of cognitive research with our dolphins, trying to understand the different ways that they think and perceive their environment. One project we have worked on is a fish identification match, attempting to see if the dolphins can distinguish videos of different fish species from one another, at which they have proven to be very successful! My current individual research project at the Seas involves assessing dolphin/human window interactions during various times of the day using a variety of enrichment devices. My time at FAU helped prepare me for my current position in many ways, especially as I focused on marine biology-related coursework and research. Harbor Branch Oceanographic Institute's Semester by the Sea program introduced me to the heavy course and lab work that has proven to be very useful in my professional career. My research experiences as part of the Harbor Branch Dolphin Research team for three years and as part of Dr. Sarah Milton's sea turtle lab for two years have also proved to be a vital part of my current success. Without the knowledge and skills, I gained in these labs, I would not be where I am today, and would have never learned how much I love pursuing aquatic research! For any undergraduate looking to pursue a career in the marine biology field, my advice to them would be to volunteer in a lab and/or a local aquarium, wildlife facility, or animal shelter – your past lab and animal experience as an undergrad is what will really set you apart in your future endeavors!
For more information about where a biology degree can take you in the future, visit the FAU Career Center for sample career titles and work settings.